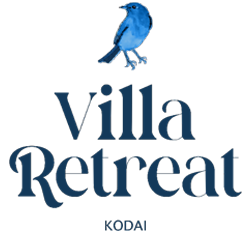 The tale of Villa Retreat begins, and continues, with the idea of discovery and new experiences. The property dates back to 1845 – to the very establishment of Kodaikanal, when J.T Noyes built a few shacks at the cliffs of the hills. Past the lush greenery, sparkling lakes and seemingly endless waterfalls, lies Villa Retreat, the modern day evolution of Noyes' shacks.
Conceived as an experiential hotel, Villa Retreat pays homage to the town, its people, culture and of course, its origin, by building experiences around the very idea of discovering a new Kodai, just as Noyes did all those years ago.
Our team, almost all of whom are locals, work in close conjunction, leveraging their proximity and background to create authentic experiences for our patrons. This includes curating personalized experiences at the homes of local experts for our guests so they can truly immerse themselves in Kodai's unique culture. After a long day of exploration, visitors are welcomed back to a homely retreat – a place where guests can discover local and experimental cuisine, immerse themselves in art and design, disconnect from technology, connect with nature and meet and interact with unique personalities from all over the world.
So, what does this all mean? Come, find out. We're beyond excited to show you!
Welcome to Villa Retreat.
It's as Kodai as can be.
We understand that sometimes, work is the priority, so we've intentionally kept Wi-Fi service to
our lobby area.
As part of the Villa Retreat experience, rooms are maintained as they are, without Wi-Fi to let our guests truly disconnect and soak in the magic of Kodaikanal.
The team at Villa Retreat brings together experienced, like-minded experts from different walks of life to build a warm, inviting and memorable atmosphere, where guests are treated to the real Kodaikanal.
As an experiential hotel, the culture of the property and the interaction our staff have with our guests is extremely important to us. In fact, it's at the core of everything we do, and for us, that starts with our team.